New Era of Earth Management
We currently face unprecedented challenges — from the climate crisis to pandemics, war, and growing inequality. All of these are global issues that directly affect every life on Earth. It's up to us to solve these problems by uniting our hearts and minds to create a new era of coexistence.
This is the era of Gwangmyung Earth Management.

At this Brain Education Festival, we will have a special session with author, visionary, and Body & Brain founder, Ilchi Lee. Through this meeting, you can awaken bright consciousness and usher in the era of Harmonious Coexistence as your greatest self.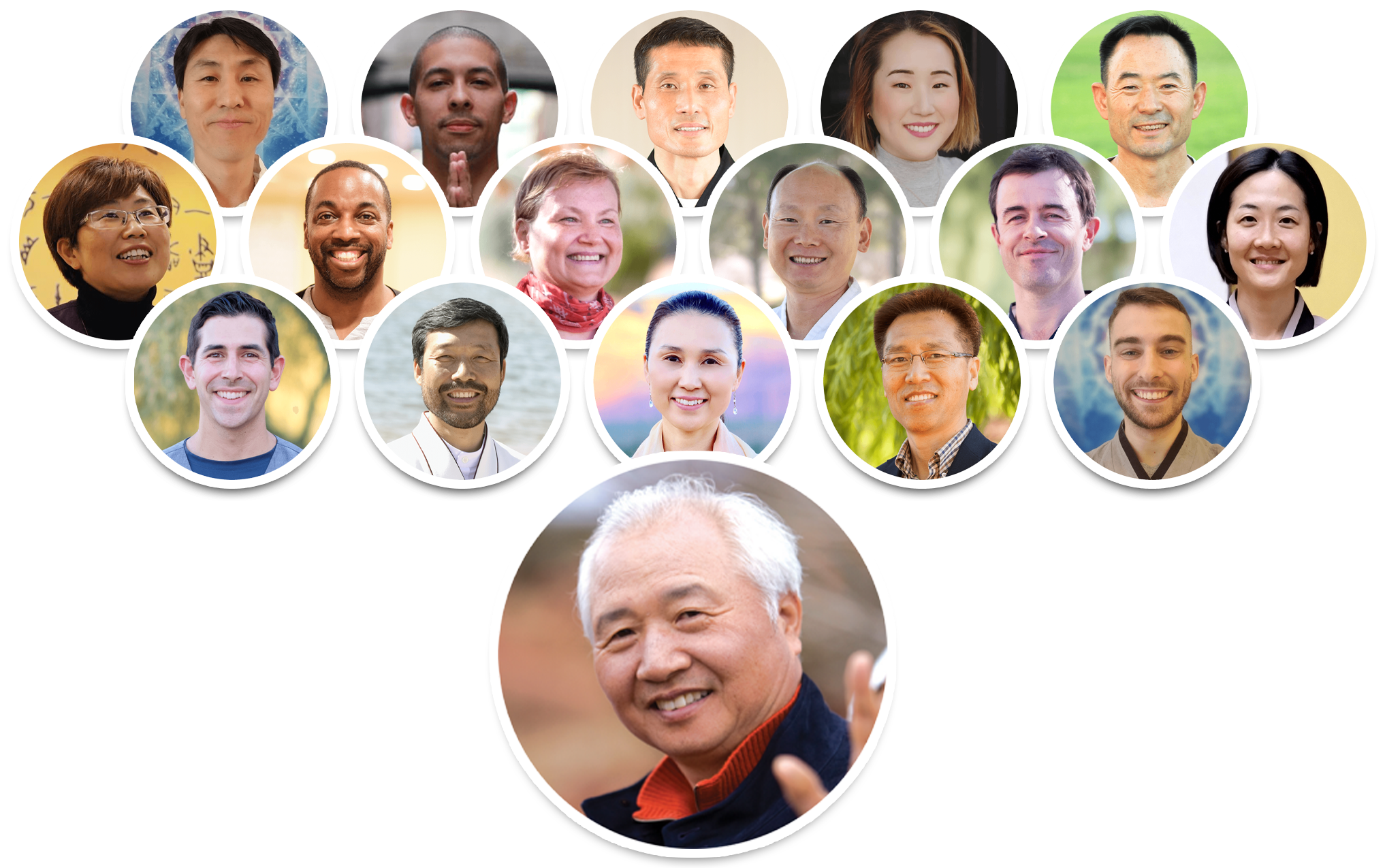 Body & Brain Class

with

Jordan

10-11AM ...Pacific Ballroom
For those who arrive early on Friday, join us for a Body & Brain class to help you feel centered and refreshed after travelling. Stretch, breath, and connect with yourself through the exercises you're familiar with from your Body & Brain centers. Great for beginners and non-members as well.
Dahngong Basics

with ChungSuk
4-5 PM ...Pacific Ballroom
Spend an hour experiencing the power of Dahngong with Senior Master Chungsuk on Friday afternoon. Learn the basic Dahngong forms for strength, balance, and energy management. No prior experience necessary.
Festival Opening
7-7:30 PM ...Atlantic Hall
The Gwangmyung Festival officially opens at 7pm on Friday night! Learn about the Earth Citizen Lifestyle and how every aspect of the Festival shows a different aspect of Harmonious Coexistence.
Sound Healing Bonfire and Dynamic Meditation

with

Ilchibuko
7:30-9:30 PM... Front Lawn
Don't miss this exhilarating sound healing and dynamic meditation experience, led by Senior Master Ilchibuko. Feel great Gwangmyung energy around the bonfire with the power of sound healing!
HEROES Dance Night

with Johashim
10-11 PM... Pacific Ballroom
If you want to move your energy a little more, join the HEROES dance night with Master Johashim after the bonfire. All ages and physical ability levels welcome!

Healing Qigong Flow

with

Brian
6:30-7:30 AM ...Pacific Ballroom
Enjoy gentle qigong exercise to help you start the day with energy and presence. Master Brian will guide this class in the Pacific Ballroom
Sunrise Meditation

with

Chungsuk
6:30-7:30 AM
Welcome the sunrise with Senior Master Chungsuk during this outdoor meditation session.
DahnMuDo Martial Arts

with

Yoo Joonmin
9-10:30 AM ...Pacific Ballroom
Through DahnMuDo healing martial arts you can experience strength, confidence, and centeredness. Easy enough for beginners but advanced enough for experienced practitioners, you'll enjoy Master Yoo's expert guidance.
Awakening Gwangmyung Spirit

with

Byukwoon
9-10:30 AM ...Atlantic Hall
Senior Master Byukwoon shares his wisdom about the Gwangmyung Spirit. What is it, how do we cultivate it, and what can you create with the Gwangmyung Spirit? Find out at this session.
Nine Steps to Create Your Destiny

with

Chunghae
9-10:30 AM ...Solarium Hall
Learn nine steps to develop your energy and fulfill your greatest dream. Get clear on how you'll manifest what you want in life with Senior Master Chunghae.
Outdoor Session Orientation
11-11:30 AM
We'll prepare for the outdoor sessions with a quick orientation before lunch in Atlantic Hall.
Outdoor Nature Healing and Meditation

with

Bama, Magdalena, Yana, and Keumdao
2-5 PM
Enjoy the natural beauty and energy of Honor's Haven during our Saturday afternoon session. 4 experienced trainers will guide you to connect with nature and your true self at a variety of outdoor stations on the property.
Body & Brain Self-Healing

with

Chungsuk
2-3:30 PM ...Solarium Hall
For those who prefer to stay indoors during the afternoon, Master Chungsuk will offer a deep experience of self-healing through exercise, breathing, meditation, and energy work.
Special Training with Ilchi Lee
7-9:30 PM
Upgrade your consciousness to meet with new era of Earth Management. Through this special training, receive inspiration to become your greatest self and help usher the Earth into the era of harmonious coexistence.

Meridian Stretching for Stress Relief

with

Yang Jechun
6:30-7:30 AM ...Pacific Ballroom
Start the final day of the festival with a refreshing meridian stretching class with Senior Master Yang in the Pacific Ballroom
Sustainable E-Living with Steve Kim
6:30-7:30 AM ...Atlantic Hall
Learn about the principles and practices of sustainable Earth Citizen Living with Master Steve Kim in the Atlantic Ballroom
Tai Chi for Strength and Balance

with

Sean
6:30-7:30 AM ...Outside
If you prefer to start your day outdoors, join Master Sean for a Tai Chi class to help deveop your strength and balance.
The Future of Brain Education and Festival Closing with David and Yoonjin
9-10:30 AM
We'll finish the festival with a look at how Brain Education is being shared around the world and how you can be a part of creating a healthier, happier, brighter world by sharing BE.

Join us for the "Gwangmyung Festival," a three-day retreat in the Catskill Mountains where you can reset, recharge and reconnect with your true self. Enjoy the beauty of nature while you practice Tai Chi, Meditation, and Energy Healing with friends from across the country. If you've been to the Brain Education Festival before, you'll experience a whole new level of self-healing in September. If you've never been, we cordially invite you to join us and make new memories that will last a lifetime! All ages and experience levels are welcome.
Surrounded by the Catskill Mountains, the property features a waterfall, forest, gardens, and greenery all within walking distance of the hotel and conference center. Come reset and recharge in nature.
SPECIAL Price until Aug 15
3-day Program: $536 (10% off)
Saturday Pass: $360 (10% off)
REGULAR Price from Aug 15
3-Day Program: $595
Saturday Pass: $400
Accommodations not included in program fee*


Fill out the form
text or email your registration to the contact info listed on the form